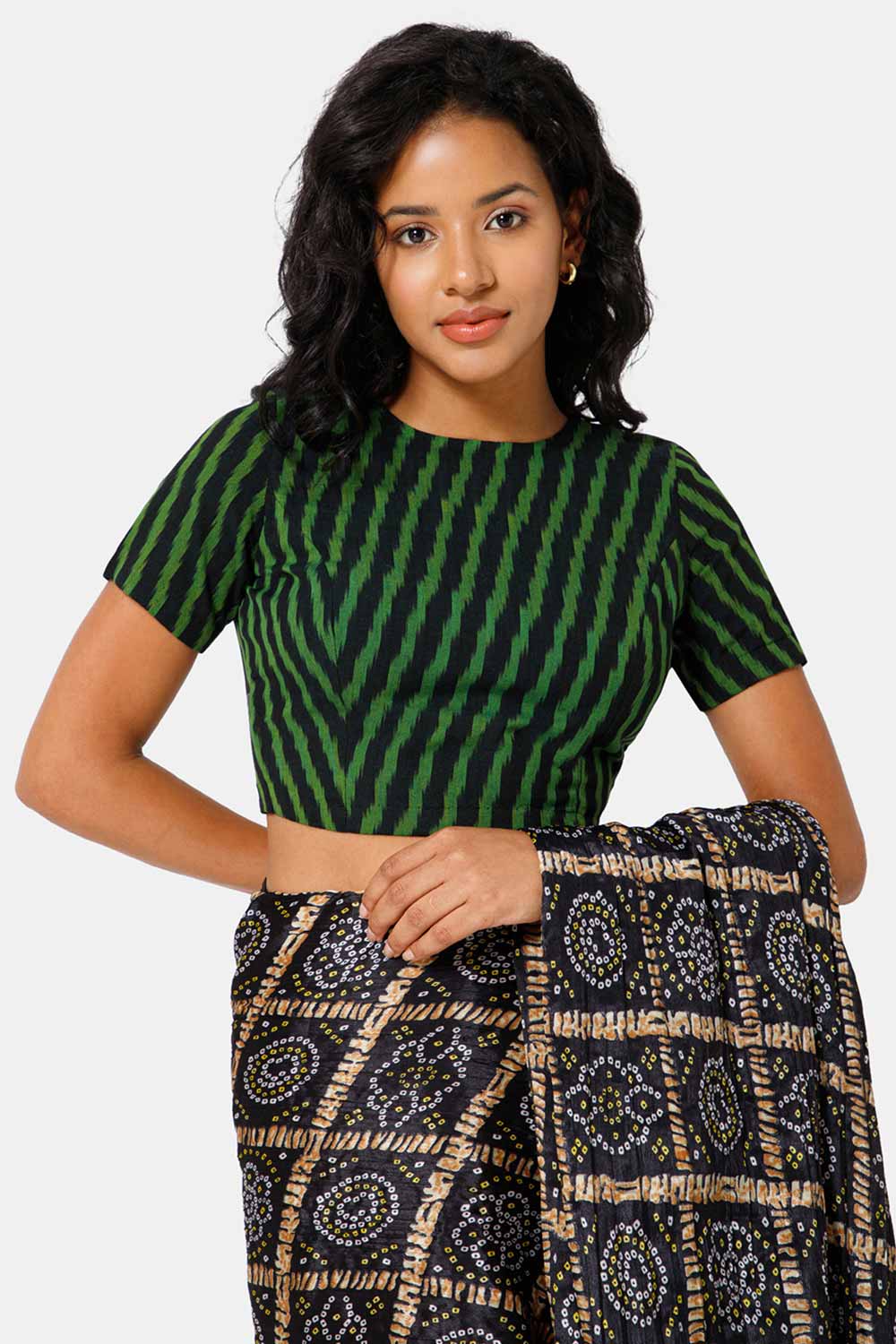 Naiduhall Princess Cut High Neck Short Sleeve Ikat Blouse - Green - BU09
Thanks for signing up for restock notifications!
There was an error signing up for restock notifications. Please try again.
Sign up for restock notifications
* 100% Original Product.
* Free Delivery on Orders above Rs. 499/-
* PAN India delivery available.
* International orders incur a standard shipping fee of Rs.5,000/-, with additional charges based on weight.
Elevate your wardrobe with our Cotton Ikat blouse designed exclusively for women. Featuring a flattering princess cut, this blouse combines traditional craftsmanship with modern style for a comfortable and elegant fashion statement.
Specifications
| | |
| --- | --- |
| Style | Ikat Blouse |
| Fabric | Cotton |
| Wire | Non - Wired |
| Padded | Non-Padded |
| Closure | Back |
| Wash Care | Hand Wash |
| Back | High Back |
| Knit or Woven | Woven |
| Usage | Suitable for Sarees |
Princess Cut Design: This blouse features a princess cut design, which provides a flattering and fitted silhouette, enhancing the overall look when worn with sarees.


High Neck: The high-neck design adds an elegant touch to the blouse, providing both style and modesty. It's perfect for those looking for a more sophisticated neckline option.


Short Sleeve: The short sleeves offer comfort and ease of movement while maintaining a stylish appearance. They make this blouse suitable for various occasions.


Back Open: The back of the blouse is designed to be open, adding a touch of sensuality and contemporary style to the traditional saree ensemble.


Ikat Blouse: The blouse features an Ikat pattern, adding a trendy and ethnic flair to your saree attire.


Non-Padding: This blouse is non-padded, offering a natural and comfortable fit without added bulk.


Back Closure: It comes with a back closure, making it easy to wear and take off while ensuring a secure fit.


With Seam: The blouse is crafted with precise seams to ensure durability and a polished finish.


Fabric: Made from high-quality cotton woven fabric, this blouse is breathable, comfortable, and ideal for all-day wear.


Care Instructions: To maintain the quality of the blouse, it is recommended to hand wash it separately, avoiding bleach. Tumble drying is suitable, but do not soak the blouse to preserve its color and fabric integrity.


High Back: The blouse features a high back design, offering additional coverage and comfort while complementing the high neck.