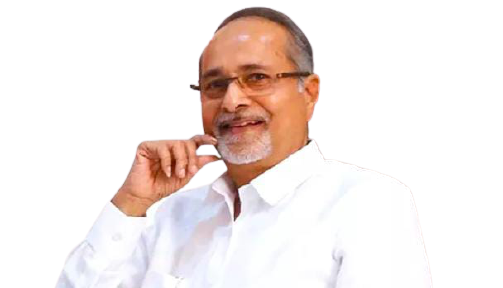 Mr. Venugopal Naidu
Chairman, Naidu hall
Venugopal Naidu's greatest role model is none other than his father. Right from childhood, he enjoyed behind-the-scenes exposure to the garment industry. Upon completing a 2-year fashion designing course in Canada, Venugopal joined the family business and carried forward his father's unique vision to successfully establish the Naidu Hall brand, as a popular family apparel chain.
History of Naidu Hall
In 1939, a pioneer from a humble, hardworking background had a visionary dream of empowering Indian woman. He envisioned a bold and confident generation of young women, and the garments that would inspire this transformation. He introduced Indian woman to the brassiere, which was stitched at a small tailoring unit in Chennai.
He knew that the ladies of the time wouldn't step out of their homes to make such purchases. So he employed door-to-door sales girls to visit them, and explain the benefits of adorning a brassiere. His attempts at empowering these women won him numbers of customers; this popularity inspired him to create a fashion landmark in the same city. The man was none other than our esteemed, M G Naidu. He was also responsible for establishing Naidu Hall, which is now a go-to brand across several generations of women in the state.
Founder's Hall of Fame
We always remember and follow our beloved founder's footsteps. M G Naidu, the man who founded Naidu Hall, began his journey with a single sewing machine in the corridor of his rental residence.
His captivating designs and brassiere patterns, proactive thinking and unique marketing strategies, helped him to establish 'Naidu Hall' a household name amongst women. Following his footsteps and with his valuable inputs and ability to diversify the range, Naidu Hall remains at the leading edge of this business.
The Company
Naidu Hall's production facilities comprise a state-of-the-art factory at Ambur, Tamil Nadu, the native place of founder M G Naidu's wife, Jayalakshmi Ammal. Expansion plans include installing additional equipment like auto profile, auto pressing and auto overlock machines, to boost production, quality and capacity.
Naidu Hall strives to maintain consistently superior standards of quality by following the Japanese 5S manufacturing practice – Sort, Set, Shine, Standardize and Sustain. The
company also follows the lean manufacturing process.
The goal of establishing the factory was not just to deliver unmatched product quality, but also to improve the quality of life amongst people of the region, through employment opportunities. Nearly 90% of the factory staff are women – a reflection of Naidu Hall's longstanding vision of empowering women.
Social Responsibility
As a brand that touches the lives of people, we believe that we should give back to the society. We have established a Heart Foundation in Chennai, through which nearly 40 heart surgeries have been performed. We also have the vision of building a better future for the younger generation.
We are making this a reality by sponsoring the education of one child of each employee and providing free education to the children of the village where our factory is located. We also sponsor all the equipment required by schools in the village. Empowering India's children is key to a progressive future.